E dopo il riconoscimento internazionale di R&D100 Award ricevuto il 4 Novembre a Washington, la finestra fotovoltaica trasparente di Glass to Power ha vinto anche il SetteGreen Awards 2016, il premio promosso dal settimanale Sette del Corriere della Sera e rivolto alle eccellenze italiane nei campi dell'innovazione e della sostenibilità ambientale.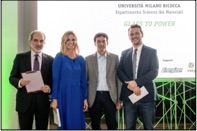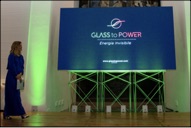 I premi dell'edizione 2016 sono stati consegnati dal direttore della rivista Pier Luigi Vercesi nel corso di una cerimonia tenutasi nella serata di mercoledì 23 novembre alla Triennale di Milano e condotta da Filippa Lagerback.
A ritirare il prestigioso riconoscimento, gli autori dell'inven-zione: i Professori Francesco Meinardi e Sergio Brovelli, docenti del Dipartimento di Scienza dei Materiali dell'Università di Milano-Bicocca e rispettivamente Presidente del CdA e Presidente del Consiglio Scientifico di Glass to Power.
A seguito di questi importanti riconoscimenti, l'Amministratore Delegato della società, Emilio Sassone Corsi, ha proposto di effettuare un primo aumento di capitale che porti la società ad un valore di mercato di 1,5M€.  Tale aumento, deliberato dal CdA, sarà sottoscritto da nuovi soci e da alcuni soci già oggi presenti nel capitale entro il prossimo febbraio 2017.