And after the international recognition of the R&D100 Award received on the 4th November in Washington, the transparent photovoltaic window of Glass to Power has also won the SetteGreen Awards 2016, the award promoted by the weekly "Sette" of the Corriere della Sera, aimed at Italian excellence in innovation and environmental sustainability.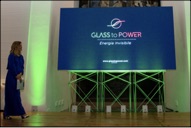 The prizes for the 2016 edition were presented by the director of the magazine Pier Luigi Vercesi during a ceremony held on Wednesday evening at the "Triennale" in Milan and conducted by Filippa Lagerback. To collect the prestigious recognition. The authors of the invention: Professors Francesco Meinardi and Sergio Brovelli, members of the Material Science department of tha Milano-Bicocca University and respectively President of the Board and President of the Scientific Council of Glass to Power.
After these important successes, the company CEO, Emilio Sassone Corsi, has proposed a first increase in capital to bring the company to a market value of 1,5M€. This increase, agreed by the board, will be underwritten by new partners and by some of the existing partners by next February 2017.